Bulk SMS for Real Estate
Bulk SMS Marketing is very cost effective for Real Estate Business
Highest Reach
The average persons looks at their phones 150 times per day
Highest Open Rate
Mobile phone users have their phone within arm's reach 14 hours per day
Low Investment & High Returns
Promotional SMS Marketing campaigns are opted out less than 5% of the time
Bulk SMS Services for Real Estate Business | Bulk SMS Service provider for Real estate agents | Best Bulk SMS Services for Real Estate Agents
With the increase in the competition in the real-estate business, each property owners, Builders and Construction companies are facing heavy challenges in advertising their business and promoting their brand. Earlier real estate agents and companies would spend most of their advertising budgets on Newspaper advertisements, flyers and billboards advertisements which have now become updated. With the advent of mobile phones, Bulk SMS Services for Real Estate Business is considered as the best and most affordable medium for all business communications in Real Estate.
Compared all other conventional advertisement channels, Bulk SMS Marketing is very cost effective for Real Estate Business. It is the most effective and efficient marketing channel which can be used to drive more targeted audience into your business without spending much time, effort or money in this. SMS Connect is the Leading Bulk SMS Service provider for Real Estate Business and agents in India. SMS Connect offers you a User-Friendly powerful messaging platform that makes your Real Estate Marketing Campaigns easy to handle. In addition to Bulk SMS service for Real Estate Business & Bulk SMS Services for Real Estate Agents we do offer a special service called Location based Geo analytical SMS for Real Estate that further narrows down your targeted audience yielding more profit for your business.
Let us help you find your Audience?
by reaching the right people at the right place & time
Geo Analytical SMS Marketing Services for Real Estate
Mobile tower radius based SMS Campaign for Real Estate Business
Multiple operators based intelligent filters
35+ Target customer profile for Real Estate Business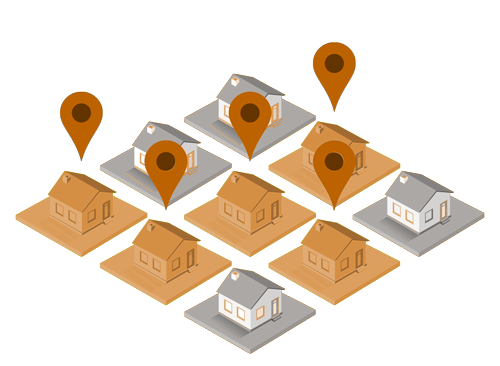 Location based Geo Analytical SMS Services in Real Estate can be used to:
Target Local customers in the locality of your projects in real-time and drive them to your site with your promotional messages.
Targets specific customers based on specific criteria to improve the efficiency of your SMS Campaigns.
Make your Bulk SMS campaign unique compared to others as this is used by a few of your competitors.
Attract more prospective clients to your business faster than the bulk sms marketing.
+ more info
Bulk SMS Advantages for Real Estate Business
Bulk SMS Provider for Real Estate Agents
Why Choose SMS Connect for bulk sms services?
Built in GSM & Unicode character set support to allow any regional language including Tamil, Hindi, Arabic and others plus emojis & symbols
No more split sms content. Long messages are automatically connected across global networks seamlessly
Free Dedicated Sender Name for Promotional SMS
Send multiple Bulk SMS in a single API request
Bulk SMS High Priority Route for instant SMS Delivery
Free Powerful SMS API Integration with Website & Application
Online DND Filter option to Scrub the Database against the Do Not Call Registry
Web Based SMS Platform – No download required
Send SMS to all mobile operators GSM/CDMA in India
Transparent (DLR) Delivery Report and Download in the excel sheet
Stay compliant with Bulk SMS frequency and throughput regulations per source number in each country
Flash SMS that appear immediately in the recipient's display
Smart Retry Mechanism
Ease Of Use
100% Delivery on Active Numbers
Multiple interfaces like Use to HTTP, SMPP, SMTP and web to send
Tier:1 Best in Class SMS Carrier Connectivity


© Copyright 2022-2023 - SMS Connect a unit of Creative Labs.