The Power of Geo Fencing SMS Campaign
Right Message - to Right Place - at Right Time
Better Engagement
Geo-fenced ad campaigns also generate better engagement. Why? Because you're reaching your customers at the right time and place
Increased Efficiency
Marketing isn't just about getting sales. It's also about doing so with as little effort as possible. Geo-fencing allows marketers to get more with fewer resources
Better Data
If done correctly, Brands with better data easily outperform their competitors. Geo-fencing allows marketers to acquire quality data
2 Ways to Use GEO Location Based Campaign
( You can use to promote LBA in 2 different ways )
Target by District, City, Area, Radius of Residency (HLR - Home Location Register)
The first method lets you broadcasts your marketing message to residents who live in specific districts in India.
Target by Live Location (VLR - Visiting Location Register)
The second method broadcasts your marketing message to your target demographic when they are physically at the vicinity of your target locations.
Promoting Where Your Customers
are Geo-targeting with Advertising

Geofencing marketing is location based sms where a user's location is recorded via the operator, and advertisements are only shown to people in a specific location target.
Location-based marketing is a long-proven marketing strategy. Whenever it becomes apparent that a large portion of one's best potential customers reside in a particular geographic location, a business will focus its marketing activities on that location.
Geofencing is an innovative location-based marketing strategy you can use to target your ideal customers when they are in a particular geographical area. Also known as geo-targeting, the technology makes use of location data including: cellular data, Wi-Fi and Radio Frequency Identification (RFID) to target only users meeting your criteria within the specified geographic location, known as a geofence or geo-target.
Once a geo-target is identified (such as a 2 mile radius of your store), location information is used to trigger programmed actions to delivered messages. For instance, a marketer may choose to send a SMS messages to targeted profiled subscribed users within that location.
Geo-Fencing Benefits & Advantages
Geo-fencing sounds like it could be a very good thing for many organizations. Here are just a few of the benefits that it can bring your company
Target Locations
Geo-fencing closes the gap between in store, project location marketing and your broad range advertising campaigns
Broadcast Radius
Trigger campaign based on your customers' location at the right time with personalized, contextual text messaging based on their location in a radius
High Open Rates
90% of text messages are open and read within 3 minutes of delivery. Enhance your marketing by creating touchpoints with customers in the most direct way
Affordable
Since it is a targeted form of advertising the costs may be lower than you would assume. You can get started with a smaller campaign and grow your range and reach as you see fit
Increased Brand Awareness
When people receive advertising for brands they see nearby, it helps them connect with you and become better aware of what you offer
Excellent ROI
All of the other benefits come together to give geo-fencing a high ROI when compared to other forms of marketing
Let us help you find your Audience?
by reaching the right people at the right place & time
Boost advertising results by using geofencing ads that reach
customers in and around or near a specific business, event, conference center or building. to engage with your end users directly on the mobile
Custom Audiences
Target visitors that are in or have recently visited a specific geofenced location
Competitor Location
Target prospects who have visited your competitor's locations
Event Targeting
Target prospects who attended specific events within a specific time frame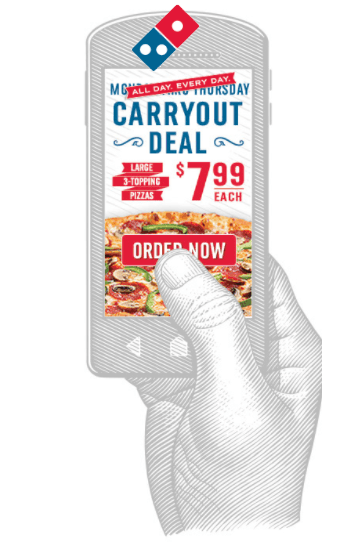 How does Location Based Marketing Work?
(Case Study: Domino's Pizza Geo-targeted SMS campaign)
This allows your business to bulk marketing messages or location specific notifications to crowds in strategic locations all over India.
Domino's Pizza 12,000 stores in 80 countries make it possible and necessary to send geo-targeted text messages.



Targeting Major Segments

Pincode: text messages are sent to only subscribers in certain pin codes
State: text messages are sent to only subscribers in certain states
District: text messages are sent to only subscribers in certain District
Timezone: text messages are sent to only subscribers in certain timezones
Store Location: text messages are sent only to subscribers who live in the certain area (according to their city, state and address).
Radius: text messages are sent to only subscribers that are within a certain radius to their store.

+ 35 Segments....